Eminem: Drugs almost killed me, Elton John helped me get clean and sober
May 15, 2:40 PM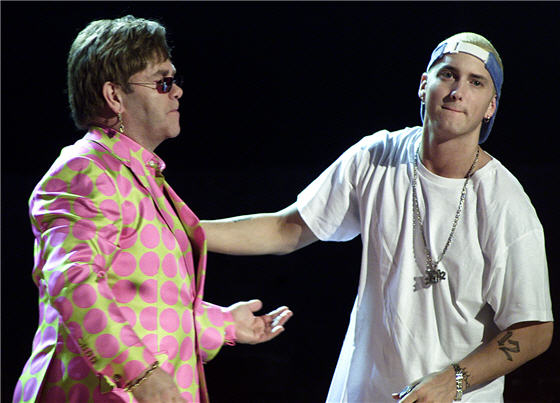 Elton John and Eminem go way back. This shot was taken at the 2001 Grammy Awards.
With his first album in five years, "Relapse," set to release Monday, rapper Eminem (real name Marshall Mathers) is coming clean about his own drug addiction, how it almost killed him and how Elton John helped him get clean and sober. In a long confession for Vibe magazine, he writes:
Iíve come clean with some things to my family and to my friends, and I think itís probably time for me to come clean with my fans, too. ... Itís no secret I had a drug problem. I just donít think my fans knew how bad it was."
He tells of quitting rehab, relapsing on Valium and Vicodin and almost dying on a Methadone overdose.
My doctor told me the amount of methadone Iíd taken was equivalent to shooting up four bags of heroin. Even when they told me I almost died, it didnít click. I was pretty much in a coma for two days.
He told the Detroit's Metro Times he still looks to his friend Elton John for support and advice:
I talk to Elton a lot. We became friends and I talk to him about things, career wise. And he had a substance abuse problem in the past. So when I first wanted to get sober, I called him and spoke to him about it because, you know, he's somebody who's in the business and can identify and relate to the lifestyle and how hectic things can be. He understands like the pressure and any other reasons that you wanna come up with for doing drugs, you know. Me and him have had similar lives and stuff. So I reached out to him and told him, "Look, I'm going through a problem and I need your advice."
Eminem, who lives just outside of Detroit with his daughters, flew 200 hometown auto workers to Los Angeles for his taping today on "Jimmy Kimmel Live.