Em gives back to city, jobless fans on Kimmel Live
By B.J. HAMMERSTEIN • FREE PRESS STAFF WRITER • May 16, 2009
Eminem returned to the public eye with a give-and-go flow and get-down-to-business sense of humor on "Jimmy Kimmel Live!" Friday night.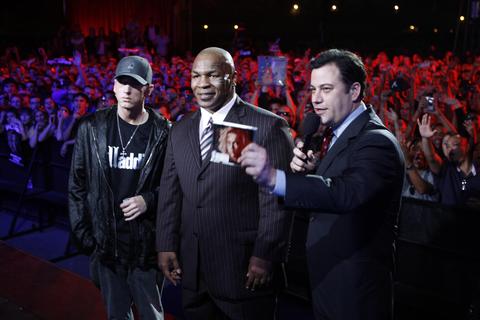 The rapper, making the first of three appearances on Kimmel's late-night talk show, did a rare sit-down interview with the host and then performed at the show's outdoor concert stage, all part of the publicity campaign accompanying the Tuesday release of new disc "Relapse."
The energized studio audience was filled with 200 Detroit-area laid-off UAW members who'd been flown in for the appearance. All of them were also invited by Eminem to attend a still-secret performance in Detroit sometime next week.
"This was an incredible, bonding experience and really lifted our spirits," said Detroiter Deshaunn Davis, 33, who was laid off from his position as a Tower Automotive maintenance office worker May 1. He spoke to the Free Press after the Friday taping in LA.
Davis, who was featured during Kimmel's opening monologue and explained that he's now working for his family member's landscaping company, said he was invited on the trip on Tuesday, but initially had second thoughts because he didn't want to leave his two sons Christopher, 11, and Eric, 5 for a couple days.
But Davis, who has "always been a fan of Em since his first album," said he's glad he decided to go as the entire experience was humbling.
"I know the whole country has been hit hard, but not this hard," Davis said. "I am meeting people from all over Michigan telling the same story."
Davis and company met at Metro airport at 8:30 a.m. Friday morning where they flew out on a private charter. Given a package of coupons for their overnight stay at LA's Renaissance Hotel near Kimmel's studio, Davis said he and a few friends he worked with at Tower in Plymouth spent time walking around and eating dinner at a Hooters before the taping began.
Today will be spent having breakfast with the $60 that was given to everyone, more sightseeing, and then heading back to the reality of Detroit when their flight leaves at 3 p.m.
(2 of 2)
THE SHOW
Friday marked Em's first-ever live late-night talk show appearance. In a gray shirt and black jeans, he answered questions from Kimmel about rap beat-king Dr. Dre, talked about how Elton John helped him through his much-publicized battle with drug addiction and explained that celebrities really shouldn't take the things he says personally in his songs – he'll go after anyone who offers the chance for a good rhyme.
Later in the show, the rapper performed the celebrity-skewering single "We Made You."
On stage, Eminem was supported by DJ Alchemist, and D12 member and noted producer Denaun Porter. The presence of Porter couldn't help but recall another D12 member, Eminem's longtime right-hand man, Proof, who was killed in a Detroit nightclub shooting in 2006.
Eminem -- whose tight relationship with Kimmel began when Eminem contributed to Kimmel's Comedy Central show "Crank Yankers" and strengthened when they worked together when "Jimmy Kimmel Live!" taped its shows in Detroit for Super Bowl XL -- also will be appearing on "Kimmel" on Tuesday and again on Friday, where viewers likely will see performances from the secret Detroit show.
Eminem also appeared Friday night on his Shade 45 satellite radio station, unveiling "Relapse" and delivering stories behind the tracks and other biting commentary.
During the two-hour "Prelapse" special, Eminem covered his dark struggle with drug addiction, the connection he has with Dr. Dre, and other avenues he traveled on his road to recovery.
"In hindsight, I had to go through that to get here," Eminem said about his drug abuse. "I can't drink, do anything that jeopardizes my sobriety."