Eminem Is Back Creating Havoc
By HHR | May 16th, 2009 | Category: Music |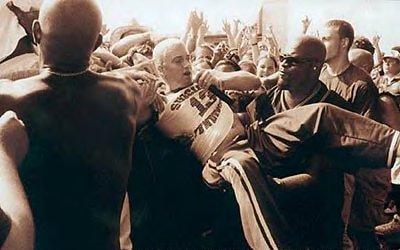 When Eminem first came out, everyone thought I was crazy. I bought the tape and since I was the only one with a car, they had no choice but to listen. They didn't get it. They thought he was a silly white boy trying to get into the rap game. And maybe he was, but I respected how he did it. He knew he couldn't rap about being gangsta or running the streets, so he stayed in his comfort zone. "Mushrooms" was my favorite song. I laughed every time I heard it.
Now, Eminem is back with his new album "Relapse". It's slated to hit stores next tuesday but the songs have already started to leak out. And as with everything with Eminem, controversy is sure to follow.
First round came with the release of the video spoofing Sarah Palin. I got no beef with the record, he is free to do as he pleases but it did stop me from wanting to buy the album when it comes out. I was hoping he would do a record T.I. style and talk about the hardships in his life since "Proof" was shot and killed in Detroit.
Instead he's creating beef with Nick Cannon. I mean seriously, Nick Cannon. Are you kidding me?
I know Eminem likes to pick on girls but damn. Where is the dis song against someone that can actually fight for themselves. Nick Cannon.
I feel this is just the build up for the let down to all Em's fans. If the only way to get publicity for an album is to attack the underbelly of the game, then I don't have high hopes for the album itself.
Any bets that I'm wrong?
- Star is a 27 year old real champion for change and contributor to HipHopRepublican.com. She holds a degree in communications. She is a lover of Hip Hop and unlike most Republicans thinks it can be an artistic vehicle to change. Star blogs at whydidyousaythatgirl.com where she goes by the pen name Sonskystar.